APTICA supports seventeen visually impaired students in Bamenda, Northwest region Cameroon
some fourteen members of Hope Social Union for the Visually Impaired (HSUVI) Bamenda and three other visually impaired persons in the Northwest Region were all smiles on Sunday the 16th of December 2018.
thanks to the support of Jean Pascal Somb Lingom (President and founder of the Association for the Promotion of Assistive Technologies and the Education of the Blind APTICA and journalist with the state broadcaster, CRTV), some 17 persons with visual impairments or their children were recent beneficiaries to a sum of 250,000 fCFA (384.61 Euros) to enable them continue effectively with their scholarly endeavours come january 2019.
Mr. Somb Lingom, himself a person living with a visual impairment is an academic guru who has been leaving no stone unturned in promoting the academic welfare of youngsters with visual impairments in Cameroon.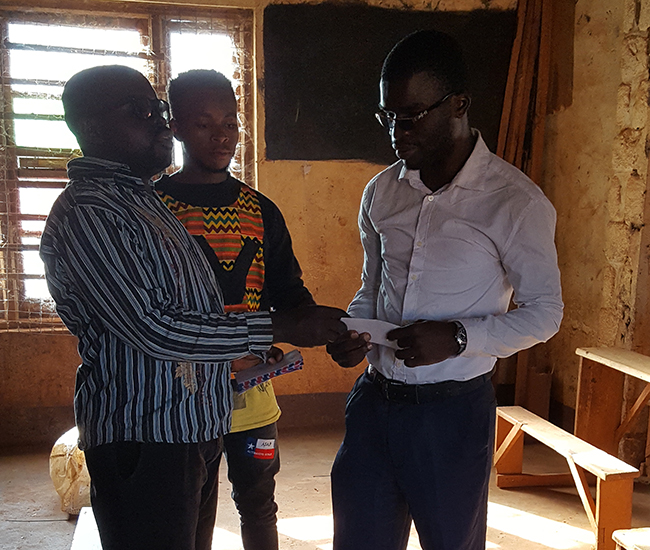 Worthy to note is the fact that this gesture of the Association for the Promotion of Assistive technologies and the Education of the Blind APTICA to the visually impaired of the north west is a third of its kind via Mr. Tonain, the current president of HSUVI.
While handing over the envelopes to the jubilant recipients, President Tonain hailed the admirable love for education he has detected in Mr. Somb and APTICA, he congratulated the beneficiaries and urged them to use the cash judiciously for their academic needs despite the socio-political turbulence plaguing education in the region so as to immortalize the good intentions of the donor.
Speaking on behalf of the beneficiaries, Amiratu Kelamonyuy in an ecstasy of gratitude saluted the excellent ties between APTICA and HSUVI while pledging that they will make good use of the fabulous sums made available to them.
She went further to pray for APTICA and its partners wishing that the good Lord should bless them and replenish their source a tenfold.
Considering that this was the last hsuvi meeting for the year 2018, the day ended with merry-making.
By:
Peter Tonain